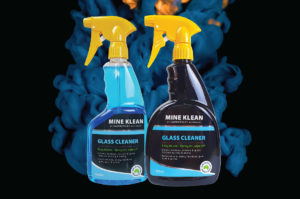 In any working environment, clean glass and/or windows can have a serious effect on both the safety and productivity of your workers, which is why it's so important to ensure that you're using the right product for the job.
Hammersley's Mine Klean Glass Cleaner is a balanced blend of solvents and detergents, each designed to perform individual functions in the removal of all soils that contaminate glass products in the workplace. The non-abrasive formula is safe to use on all surfaces and will penetrate and remove all soils.
This highly effective, industrial strength product is both water and oil-soluble and it also contains silicone polymers that create and maintain a polished surface on all treated glass, to assist in achieving an anti-misting effect.
Mine Klean Glass Cleaner is a new addition to our Hammersley range and is available now in varying sizes, including 500ml, 750ml, 5L and 20L.
For more information about this great product or any other quality products in the Hammersley range, contact our friendly sales team on 02 4928 2955 (Monday to Friday between 9am and 5pm), or email us directly at sales@hammersley.com.au.