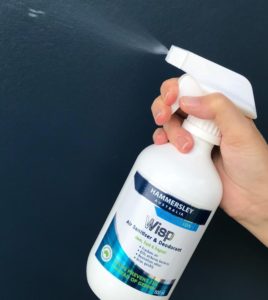 Hammersley's Wisp is a powerful deodorant spray that not only neutralisers odours but also kills 99.9% of germs and bacteria on contact with surfaces.
In addition to its highly effective germ-killing capabilities, Wisp has a delectable tropical vanilla scent which leaves a clean and fresh aroma behind, adding that extra level of comfort around your home or workspace. Not only that, but this amazing spray is also non-toxic, non-flammable and safe to use in all indoor areas, outdoor areas and even in vehicles.
The handy 500ml trigger spray is convenient and easy to use. Wisp is also highly economical. In addition to the refillable 500ml trigger spray, there are 5L and 20L bulk options available.
If you'd like to know more about this amazing product, simply give our friendly sales team a call on 02 4928 2955 or email sales@hammersley.com.au between 9am and 5pm weekdays.