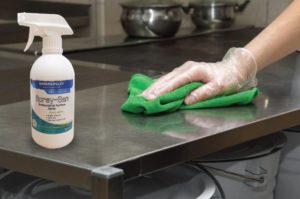 Cleaning and sanitising have always been an essential part of maintaining our health and wellbeing, whether at home or at work. Now more than ever, it's so important to ensure that we're using the best possible products to keep ourselves and our staff protected.
Spray San is a highly effective antibacterial spray that kills 99.9% of germs and bacteria on a wide range of hard surfaces. With the handy trigger spray bottle, Spray San is easy to use; simply spray on and wipe off.
This product is non-toxic and safe for food preparation areas, as well as many other hard surface areas including kitchen benches, appliances, tables, chairs, desks, bathrooms, door handles, sports, and even playground equipment.
In addition to the sturdy ready to use 500ml trigger spray, Spray San is also available in economical bulk sizes, including 5Lt and 20Lt sizes.
If you'd like to know more about this amazing product, simply give our friendly sales team a call on 02 4928 2955 or email sales@hammersley.com.au between 9am and 5pm weekdays.